If there's one thing besides eating I love to do it's travelling, and when an opportunity comes to take on a project that combines both of these loves, you say YES! Because who doesn't like to explore distant places, taking in its culture and scenic beauty, all the while indulging in the culinary delights and gems the place has to offer? Well that's exactly what I had a chance to do last weekend with my friend exploring one of the Feast On - Brewery Discovery Routes: Saints & Sinners Trail in Grey County. This is how it all went down.
When I was planning my trip to Grey County weeks prior, I hadn't realized that I've actually been there before. It's just we tend to all call this place "Blue Mountain." The place where many of us go every winter for a weekend adventure of skiing or snowboarding down those slippery slopes. Blue Mountain is in fact part of Grey County, the Northern region which includes Collingwood, Thornbury, Meaford, Owen Sound, and Wiarton. The Southern parts cover Beaver Valley, Flesherton, Durham, Hanover, and Ripley. While Grey County has always been known for its great outdoor activities, it's also emerging as a food and drink destination where restaurants across this region are embracing the farm-to-table mentality, many of which have been FeastON certified.
As with any trip of mine, it often starts with an early morning wake up call around 7AM to squeeze out as much daylight as possible. My first stop on this journey would be roughly a 2-hour drive from Toronto to the Northern part of Grey County around Owen Sound where a cider and wine tasting would be on the horizon. I am completely not a morning person at all, but when I do have to wake up early I often reward myself with a McDonald's breakfast. Yes, I say reward myself even though it probably slowly kills me on the inside, but it's oh so damn good! After stuffing my face with a Sausage and Egg McMuffin, it was time to hit the road with a coffee in hand and a prayer to Mother Nature that it be kind to us and hold off her rain until the weekend was over. Unfortunately, the entire weekend was cloudy and gloomy, but when it did rain it was mostly when we were driving or indoors. I'll take it.
Coffin Ridge Boutique Winery
By now it's 11:15AM and after driving up and down through unpaved and rocky roads, our first stop on this weekend getaway was before us. Arriving at a place with a name like this, on a cloudy, rainy, gloomy day was a little too fitting if you know what I'm saying, but once we stepped inside and started our wine and cider tasting it was like the sun came up and greeted us with fragrant aromas of apples, pears, and sweet strawberry notes. Coffin Ridge Boutique Winery produce high quality, small batch wine made primarily from hand-planted, hand-picked Grey County grapes. The two wines we tasted were two of their signature wines, 2015 Into The Light Wine and the 2015 Resurrection Rose. However, the real winner for us was their Forbidden Dry Cider and Strawberry Basil Cider. They were both so good we just had to buy two jugs of it and bring it home!
Casero Kitchen Table
It wasn't a Tuesday, but Taco Saturday was in full effect! With hungry bellies after a long commute, lunch time was in Owen Sound at a small Mexican restaurant called Casero Kitchen Table from the folks behind Casero Taco Bus, a wildly popular food truck in Sauble Beach. Situated in what seems to be a renovated car garage, inside the restaurant was a small bar serving various Mexican beverages, a healthy selection of hot sauces, and customer tables filled with orders of tacos of all kinds (obviously). Of course my friend and I had to order their Three Taco Platter for $15. The great thing when eating with a friend is you get to split the food with one another so the Three Taco Platter turned into a tasting of six! The ones we ordered were the Georgian Bay Whitefish, Roasted Sweet Potato, Grilled Steak, Crispy Cauliflower, Smoked Beet, and Char-Grilled Chicken. The tacos were AMAZING! All the ingredients are incredibly fresh and sourced locally. The vegetarian options such as the Roasted Sweet Potato and Crispy Cauliflower were my favourites. Ended the meal off with some handmade churros for dessert. No brainer there right?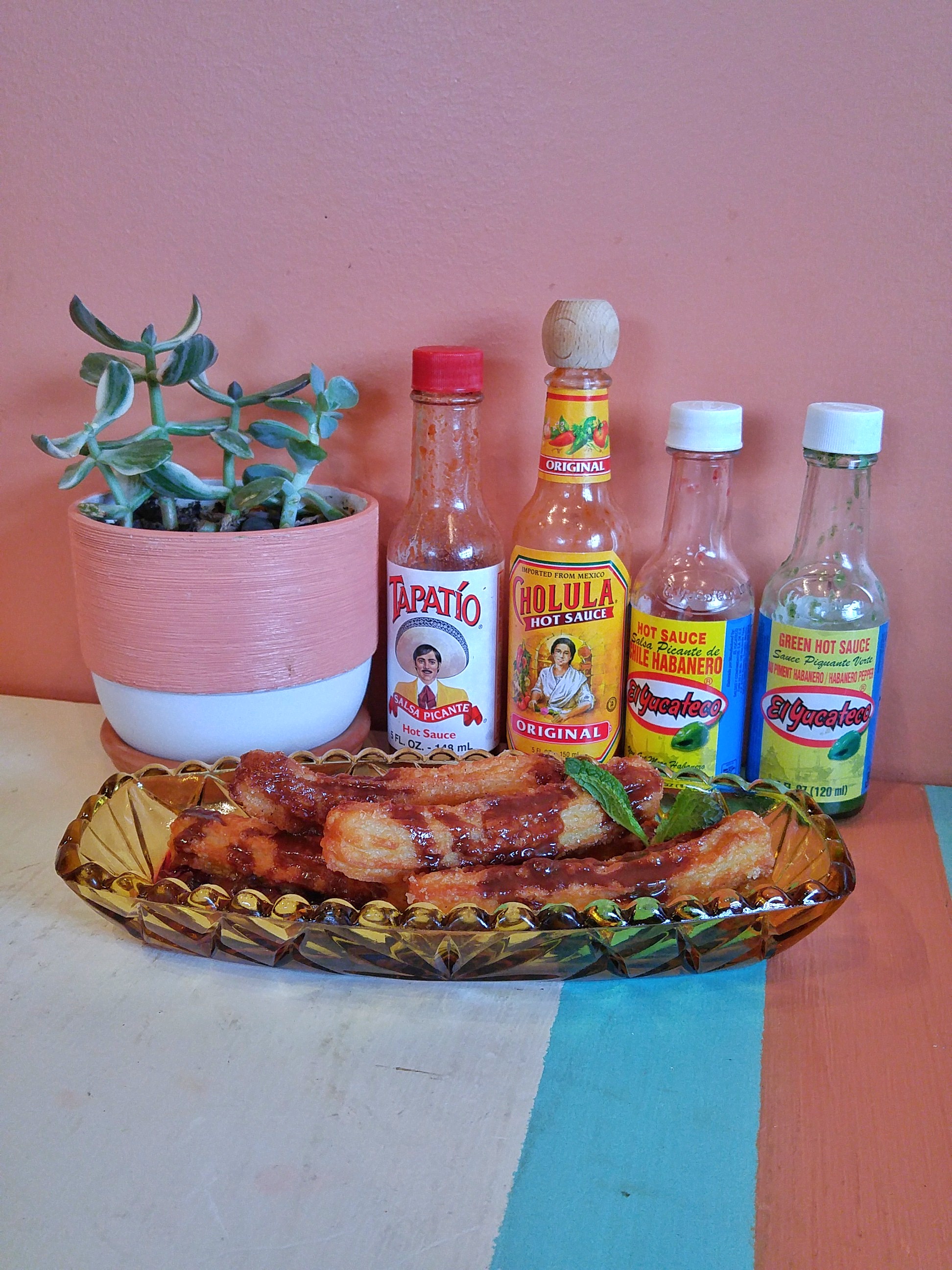 Inglis Falls
Who knew Grey County were home to so many beautiful waterfalls! Four of them are situated in Owen Sound, and Inglis Falls is the best known and most visited one of the bunch. With good reason of course as it is just absolutely breathtaking to look at. Inglis Falls is an 18-metre high spectacle created by the Sydenham River that touches the edge of the Niagara Escarpment. If you're in a hiking mood, you will also find 7.42km of hiking trails of various difficulty surrounding Inglis Falls that will lead you through the Bruce Trail. There are various lookout points through the trail that will give you a beautiful snapshot of the entire waterfall. If we went a few weeks later we probably would have seen another aspect of Inglis Falls with the fall leaves changing colour. What sight that would have been.
Sisi Thornbury
A highlight of the trip was travelling to Thornbury for dinner at Sisi, a fine dining restaurant around a 10-minute drive away from Blue Mountain. Executive Chef Jeremy Austin prepared an eight-course tasting menu that made my friend and I look at each other with astonishment every time a picture perfect dish was presented before us. Chef Jeremy has worked alongside Michelin Stared chefs all around the world taking him to places like Italy, China, Hong Kong, Montreal, and Toronto, and has even cooked for the likes of Celine Dion, Vin Diesel, Will Smith, and the Foo Fighters. He's certainly not a one trick pony either. His global repertoire really shines through creating a menu that touches upon his past experiences cooking various cuisines in each country and city he's been a part of. Most predominately is his fusion of Asian and Italian elements. Our eight-course tasting menu consisted of four dishes that is currently on the menu, and the other four dishes were specially created for us that night. Some of my favourites that evening were the Broccoli Floret Salad, Crispy General Tso Cauliflower, Ricotta Gnocchi, and Black Cod. A must visit restaurant hands down if you're ever in the area. Trust me on this.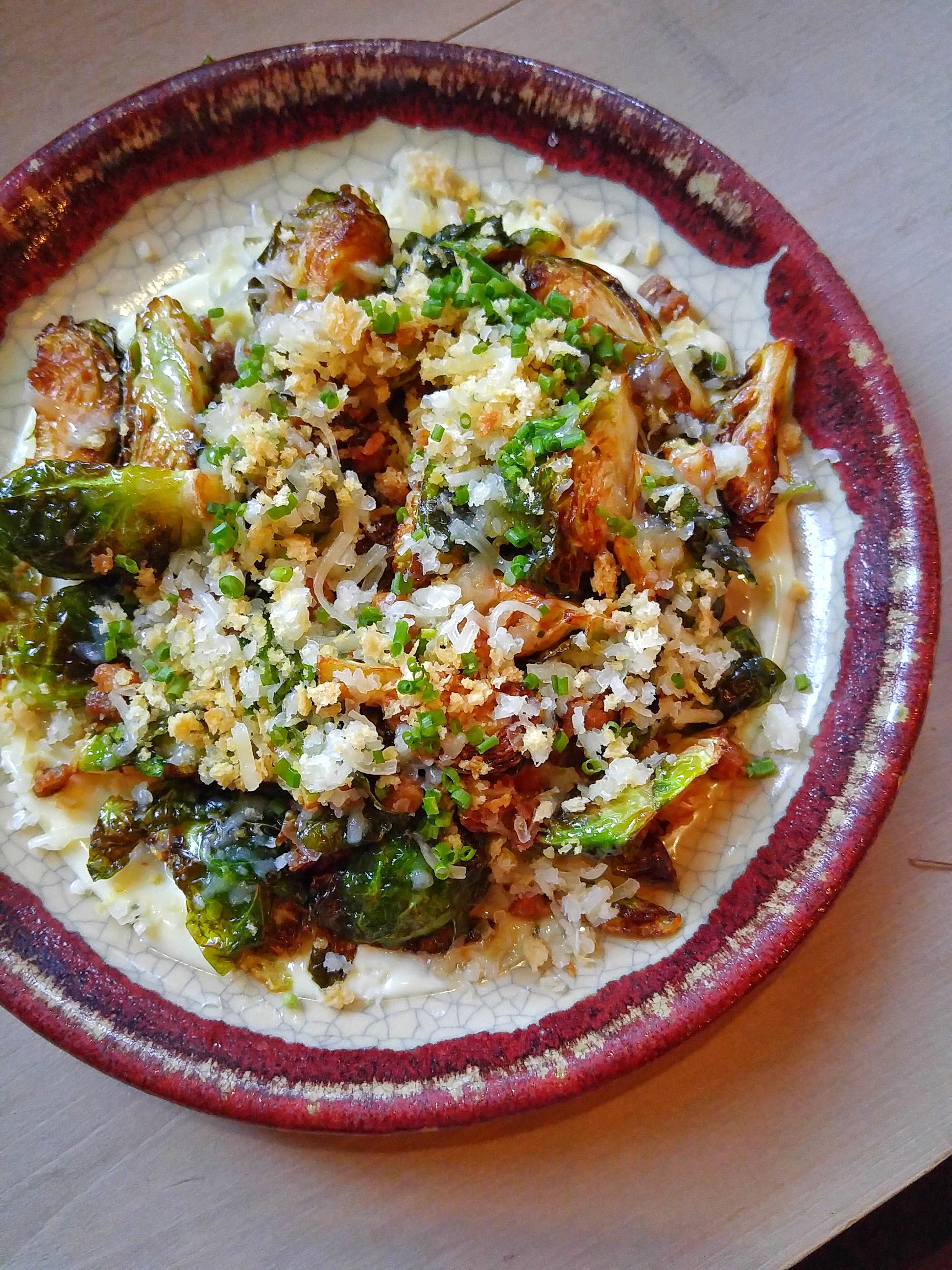 21 North B&B
From my experience planning this trip, hotels were a little hard to come by in Grey County if you're not planning to stay at the lodges in the Blue Mountain village. For accommodations, staying at the 21 North Bed & Breakfast was a perfect way to end Day 1 of our trip and to recharge for the day ahead. Located along a peaceful country road just a few minutes drive from the downtown core of Collingwood, the host Jean-Claude and breakfast cook extraordinaire will warmly greet you into his home upon arrival and lead you into one of the three themed room options you would have chosen (Master Bedroom, Retro Bedroom, Bamboo Bedroom). The room we selected was the Retro Bedroom fitted with a private floor to ceiling glass shower, fridge, and a private balcony overlooking the Beaver Valley. The entire house is stunningly decorated using Jean-Claude's previous career experience as an architect. Be prepared to also be treated to a homemade breakfast the next morning with freshly squeezed orange juice, eggs and bacon, homemade jams, and even his award-winning apple pie! We even ended our stay there by going to his apple orchard in the backyard garden to hand pick some apples to take home with us! Pssst....I'm planning to use them this weekend to make some apple pie!
Side Launch Brewing Company
Day 2 is now upon us and our first stop is doing a beer tasting at Side Launch Brewing Company in Collingwood that has been named Canadian Brewery of the Year 2016. The "Ontario Craft Beer Guide" this past May has also named them "Top Brewery in Ontario." It was time to find out what all the accolades were about, so right when the doors opened we walked into their massive warehouse where they brew three different types of beer year round that include a traditional Bavarian Wheat Beer, a Dark Lager, and a Pale Ale. The bar in the tasting room is surrounded by giant stainless steel beer tanks where guests can pull up a stool to sample their various award winning beers. After tasting their Dark Lager, Pale Ale, and Mountain Lager, the latter was my favourite and the one that I brought back home with me. It has a very smooth and silky texture, delicate with a soft European Malt character that finishes with a lingering but pleasant aftertaste.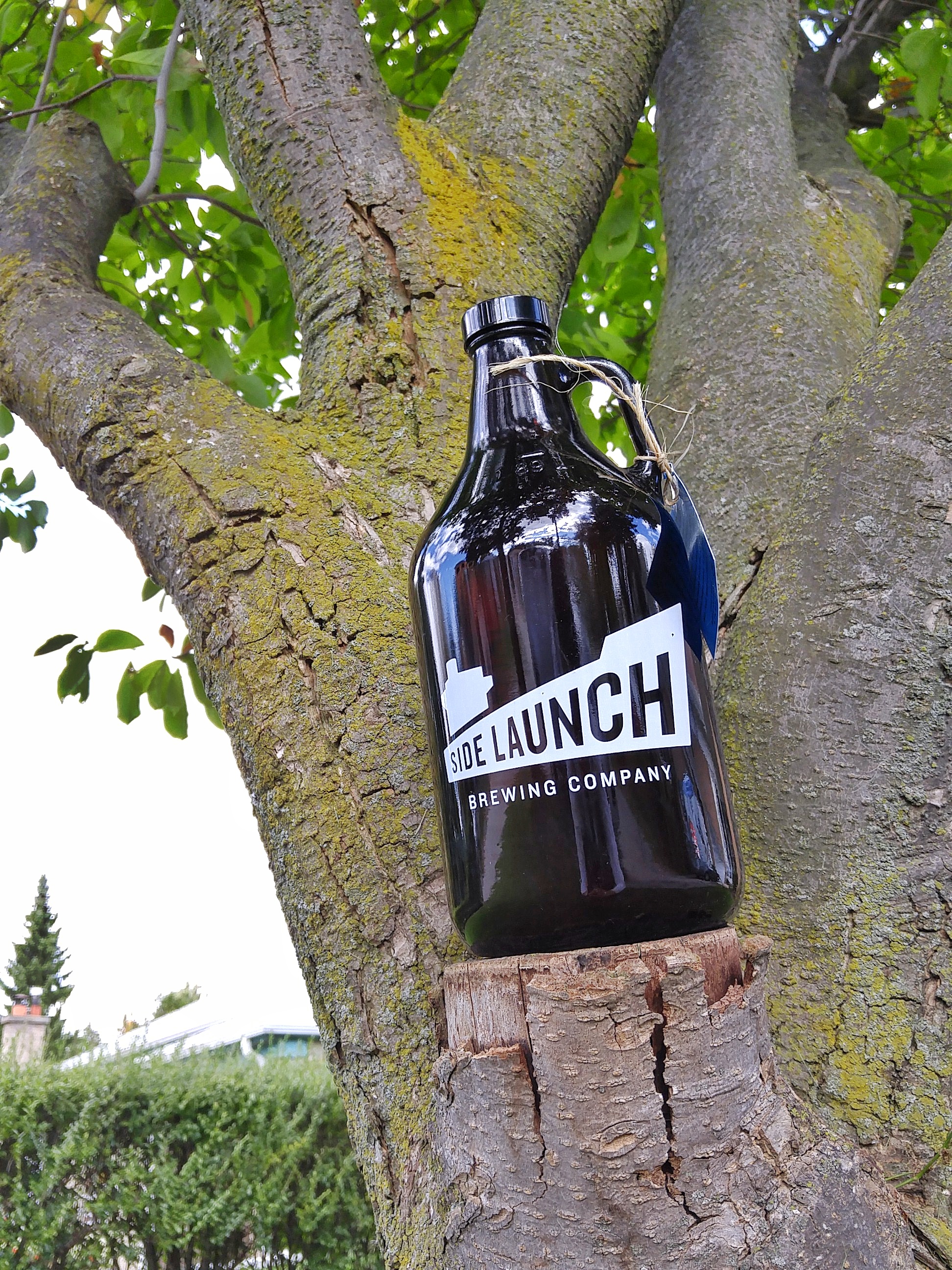 Ravenna Country Market
A total local gem, Ravenna Country Market was a quick pit stop in the small town of Ravenna for us to pick up some of their famous baked goods and ginger slush. Locals actually come here as an alternative to the mainstream grocery stores as they are also famous here for their homemade frozen Entrees to Go such as their Chicken Pot Pie, Sheperd's Pie, Lasagne, Soups, Pizzas, Cannelloni, and so much more! Unfortunately we realized that we didn't have a cooler in the trunk so the thought of purchasing one of those Entrees to Go quickly faded. Stepping inside you realize that in the middle of this small, cozy store are tables and chairs for customers to also have a sit down meal to eat freshly made sandwiches made to order. I can see why this place is such a local favourite. They literally do a little bit of everything.
Northwinds Brewhouse & Kitchen
A brewery and a restaurant mixed into one. That is exactly what Northwinds Brewhouse & Kitchen is in Collingwood. They create globally inspired hand crafted beers paired with innovative, locally sourced, and seasonally focused food, and was the perfect stop for lunch on day 2 of our trip. The perfect fusion of beer and food came in the form of Beer Pretzels, hand rolled, baked and dipped into this gooey cheesy sauce goodness. We also ordered one of their seasonal Sweet Potato Soup, a Brick Pressed Veggie Sandwich, and a Mexican Chicken Burger. Just like Casero Kitchen Table, Northwinds Brewhouse & Kitchen is one of the FeastON restaurants that are part of the Ontario Foodservice Desgination program, where they select a handful of Ontario's best restaurants to create and support Ontario's culinary identity. Yum!
Beaver Valley Orchard & Cidery
By the time we arrived at our next cider tasting at Beaver Valley Orchard & Cidery, it was absolutely pouring rain with a tornado watch already in effect. Running inside the historic post and beam century barn to avoid the rain, we were greeted at the door to advise us that we were just in time to join a cider tasting that was about to begin. Located on the Niagara Escarpment in the heart of Beaver Valley, their cider is fermented in small batches from select varieties of heritage apples grown in their very own orchard. The tasting consisted sampling five of their ciders including some of my favourites like Organic Ginger, Bumbleberry, and Dry Pear. Ironically enough the cider that I bought to take home was their sixth cider that was not up for sampling due to the fact of the very small quantities they can make which is their Ice Cider. How they convinced me of buying it without even tasting it? "If you ever had Ice Wine, it's just like that but a million times better." SOLD.
Eugenia Falls
One of my favourite aspects of this trip was the fact that I had a chance to not only eat and drink to my heart's content, but to also explore and marvel at nature's beauty of what the Saints and Sinner's Trail has to offer in Grey County. A big facet of the scenic part of this trip was going on hikes along the waterfalls that call Grey County home, so to end this trip off we went to Eugenia Falls situated in a very tiny village of Eugenia. Eugenia Falls is the tallest waterfall in the region at 30-metres high from the edge of the Niagara Escarpment all the way down to Coo-Coo Valley. By the summer time this waterfall thins out as it starts to lose a lot of its power starting in May, so if you're feeling brave enough you can even step close to the edge of the cliff to take in a spectacular view. I may or may not have done that myself.
Swiss Meadows
This was a bonus stop on the trip and was not part of the original itinerary. The great thing about road trips is the fact that when you are en-route to your next destination, drive up to the peak of a mountain, and see a beautiful lookout point, you can pull over and stop. That's exactly what happened here when we randomly came across Swiss Meadows at the very peak of this mountain overlooking the Blue Mountain Village below. We just had to stop our car to take in the view as the leaves had already started to turn colour up here which only added to the overall beauty.
It was a complete pleasure working with the Ontario Culinary Alliance and Grey County Tourism to work out my self-guided tour on one of the five Brewery Discovery Routes. This very route is number two on its list - the Saints & Sinner's Trail and highly recommended. It was an incredible weekend full of craft beers, ciders, delicious food, company, and scenic adventures. I urge anyone who is reading this to take an opportunity to visit one of these five amazing routes and explore what our beautiful province has to offer. You can visit HERE to get started on planning one of these weekend getaways just like this! I will now see "Blue Mountain" in a whole new way. What revelations will your next adventure lead you to?