We were at the launch of the new PC Insiders Collection at the PC Cooking School inside Maple Leaf Gardens where we had a chance to explore twists on holiday traditions using the new line of products offered by President's Choice. This is such a festive time of the year right now with non-stop feasting starting from the weeks leading to Christmas all the way to New Year celebrations in January, that this launch event came at the perfect time to discover all-new ways to holiday that will help anyone elevate their entertaining super powers to new heights.
At the helm of this event was Tom Filippou, Executive Chef of President's choice where he organized this intimate event by separating it into three food categories, "Mingle, Dinner, and Dessert." Each of these food categories were highlighted by the new line of products from the PC Insiders Collection that features over 200 products including 70 new launches. President's Choice took us on a food journey from start to finish, focusing on an all-encompassing dinner party that starts with mingling during happy hour, dining with must try products at the dinner table, and ending the night off with some sweet treats.
Below you can find some inspiration on some of the products offered in the PC Insiders Collection to use when hosting your next party, or even just pick up some of these goodies to enjoy all to yourself. No one's judging here.
Mingle
Seacuterie Board
Charcuterie Board
PC Waffle Chicken Fillets with Spicy Maple Syrup
Crispy Rice Cake Bites with PC Tuna Tataki
Baked PC La Belle Riviere Cheese with Apple-Pear Confit
Dinner
PC Double Stuffed Turkey
Korean Fried Potatoes with Cabbage, Bacon, and PC Memories of Soul
Piri Piri Rapini with PC Memories of Eggs Benedict Hollandaise Sauce
Crispy Fried Cauliflower Ravioli with Creamy Harissa Sauce
Beef Tenderloin with PC Black Label Onion Cabernet
Dessert
Avocado Lime Coconut Cheesecake
Mini Chocolate Brownie Bites
Spiced Cookie Dippers with PC Chocolate Ganache Pots
PC Pistachio Pudding
PC Chocolate Pecan Bar
Lemon Squares
PC Apple and Pumpkin Galettes
The icing on the cake to this event was getting to have the TV and food world collide when Sarah Rafferty, who plays Donna on one of my favourite TV shows Suits was at the event as well. Sarah was joined by her mother Mimi on stage where they showcased their traditional Rafferty family holiday recipes by adding unexpected twists using ingredients from the PC Insiders Collection.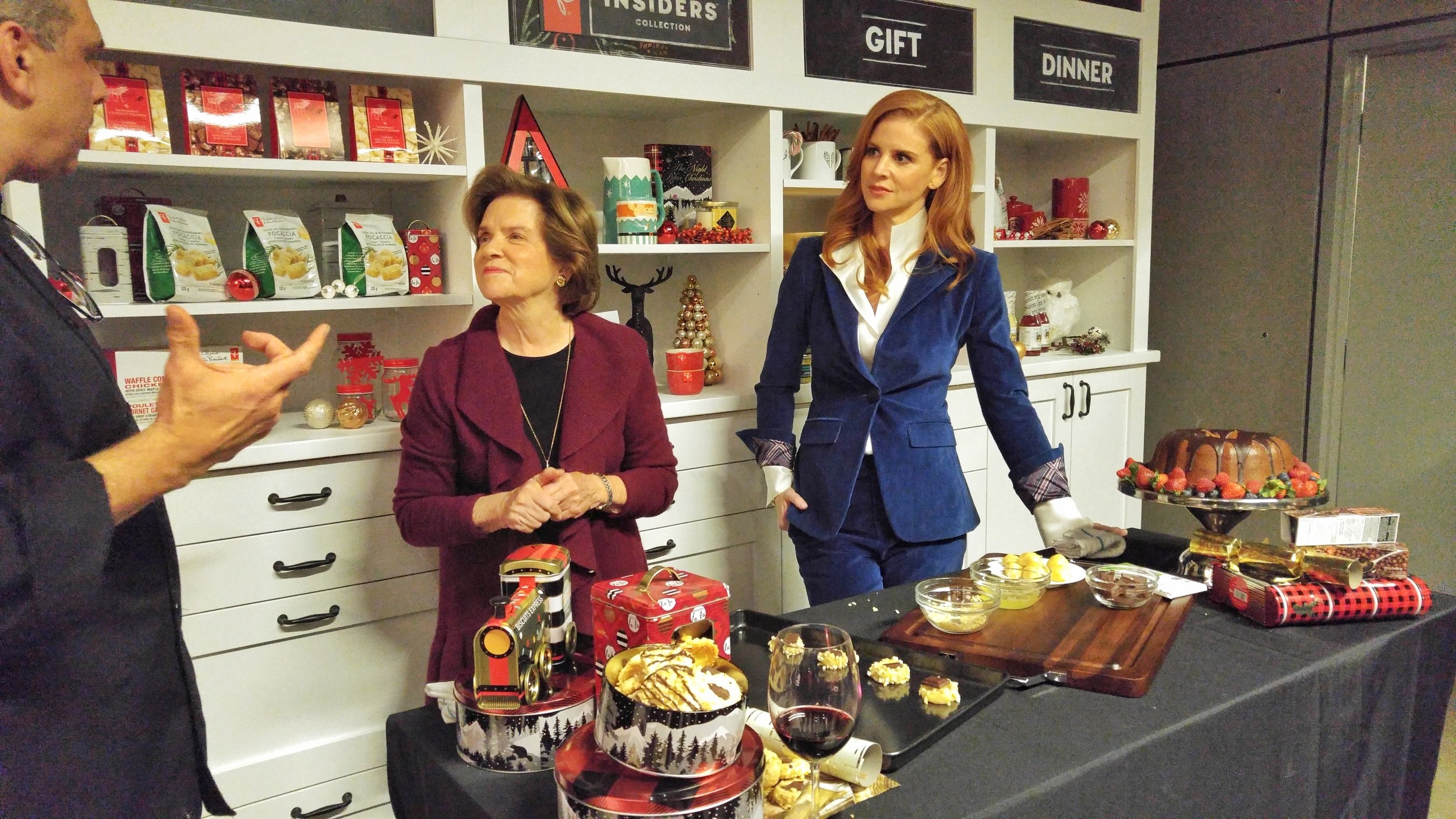 Sarah and her mom made us their personal holiday cookie recipe for us to try (I can't believe I tasted some of Donna's cooking!) Their cookies incorporated a unique twist by adding in the PC Organic Mint European Dark Chocolate into the mix, and below you will also find a video of Sarah and her mom talking about this very recipe and how they like to get the kids involved!
I hope you all get a chance to discover twists on traditions with the new PC Insiders Collection. Holidays will never be the same again!