Just like that another SIAL Canada has come and gone. It was only last year in 2018 that I took part in my very first SIAL Canada trade show. I came back home last year feeling even more proud and patriotic than ever. There was no doubt that Canadian companies are now at the forefront of innovation in the food industry, and that was clearly evident by the quality of Canadian products being showcased at North America's largest food-innovation trade show last year in Montreal.
Read a recap of my Montreal SIAL Canada 2018 experience here.
So when asked to become an official media partner at SIAL 2019 in Toronto, I jumped at the chance! For three days in May, Toronto was transformed into an agri-food industry hub not just for Canada but for the entire world! With a one-stop-shop concept, the Enercare Centre opened its doors to more than 1,100 food and beverage exhibitors from 60 different countries. Bring an empty stomach and comfortable shoes because when you're walking through a 270,000 sq ft building with an endless supply of food and beverage samples, you'll be exhausted and full….in the best way possible.
If you recall my previous blog post, one of the main events and my personal favourite part of SIAL Canada is the SIAL Innovation Awards. Cash prizes with a value of $20,000 is handed out to the top three products that best embody innovation with criteria such as recipe, packaging, manufacturing, and positioning that gets judged by a panel of highly-esteemed industry professionals.
Read a recap of SIAL Canada's unveiling of the Top 10 Finalists this year here.
During the first day of the trade show, the official SIAL Innovation Awards ceremony was held live at 10AM where Dana McCauley, SIAL Canada 2019 Innovation Ambassador, announced the Gold, Silver, Bronze, and Hopeful prize winners. As all the finalists held their collective breath, the winners one by one were announced. Below are your 2019 SIAL Canada Innovation Winners!!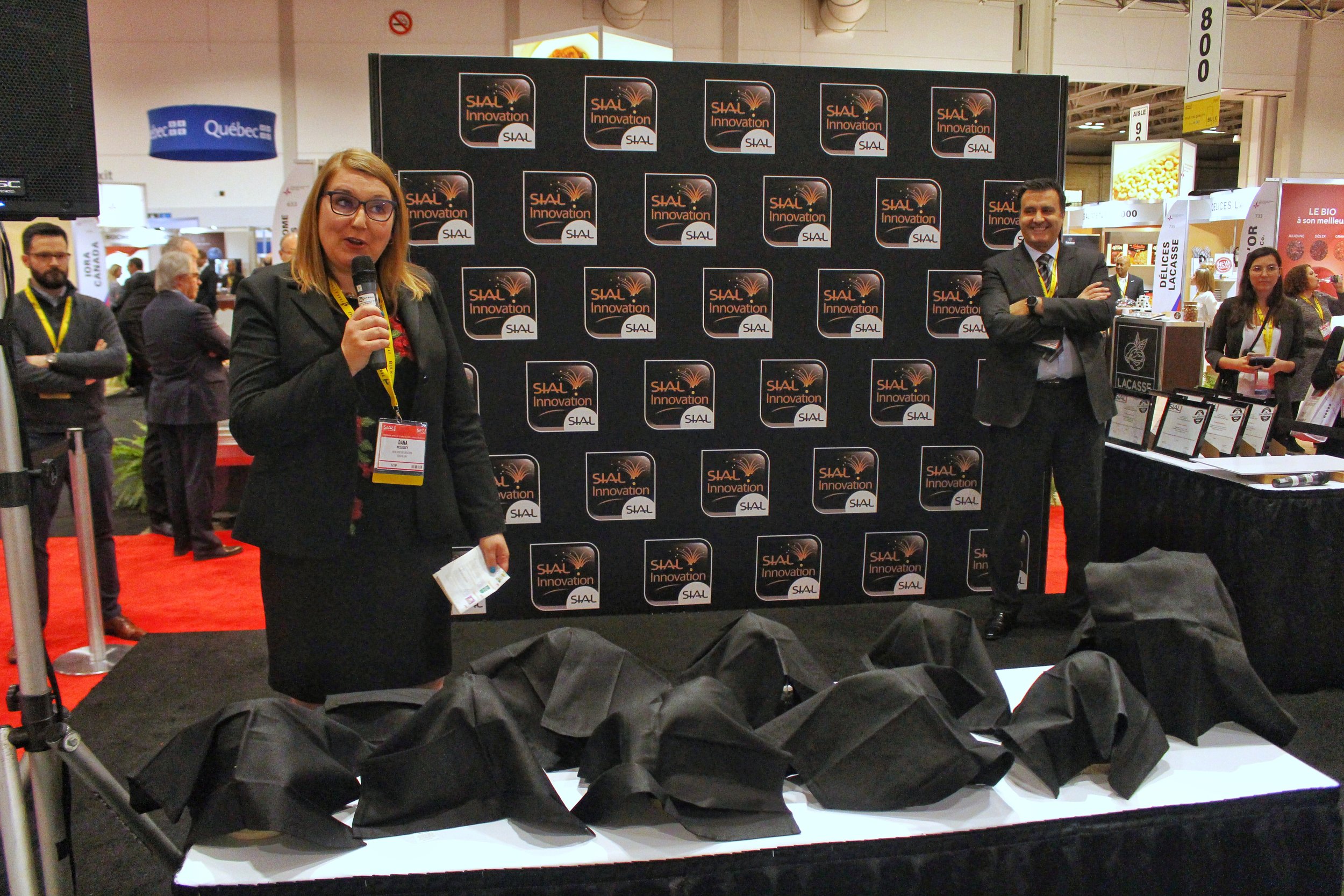 Gold - Unbun Keto Foods - Vegan Keto Buns (Ontario, Canada)
Silver - Yummy Doh - Raw Cookie Dough (Quebec, Canada)
Bronze - Lofbergs Canada Inc - ICE (Ontario, Canada).
Hopeful - Partake Brewing - Partake Pale Alt Craft Non-Alcoholic Beer (Alberta, Canada)
For the first time ever this year in SIAL Canada's 16th year history, all levels of Canadian government (federal, provincial, municipal) were in attendance. This is a huge milestone for the Canadian food industry as its further affirmation that investment in our local companies is important to further develop food innovation and sustainability within the Great White North. During the official opening ceremonies, Canadian government officials made their opening remarks to ring in the start of all the various festivities. Among them were Mr. Jean-Claude Poissant (Parliamentary Secretary), Ernie Hardeman (OMAFRA's Minister), and Michael Thompson (Deputy Mayor of the City of Toronto). A special presentation was also made by Italian dignitaries to celebrate Italy as the chosen country of Honour at this year's trade show.
Speaking of the various festivities, one of the crowd's favourite at this year's SIAL Canada was the inaugural Canadian Plate Competition. Four competing Canadian chefs pushed themselves to new culinary heights when they were tasked to create a dish that they felt truly represented Canada, using thirteen ingredients from each province and territory. The four competing chefs were Andrea Carlson (Burdock and Co - Vancouver, BC), Laura Maxwell (Le Select Bistro - Toronto, Ontario), Josh Crowe (Monkland Taverne - Montreal, Quebec), and Pierre Richard (Little Louis's Oyster Bar - Moncton, New Brunswick). Throughout the challenge, the four competing chefs pushed themselves further than they ever have and each presented dishes representative of their immense talents and Canada's diverse ingredients. Ultimately it was Pierre Richard who came out on top taking inspiration from his east coast roots creating a twist on the traditional chowder. From dried morel mushrooms hailing from the Yukon, to snow crab from Newfoundland and Labrador, Pierre kept an open mind and applied regionally-specific techniques to perfect his dish. The final presentation included a bannock-inspired tuile and a pour over 'Ocean Nage' intended to represent the coming tide of The Bay of Fundy. A truly Canadian plate. Oh Canada!
Another big milestone event at this year's SIAL was the very first International Cheese Competition. This was not only the first time it was held at SIAL, but in all of Canada as well. A jury of industry cheese professionals evaluated 230 cheeses from 9 countries across 23 different categories. Held in an open area at the Enercare Centre, visitors and exhibitors were able to watch the competition unfold right in front of their eyes along with the entire deliberation process. This competition aimed to highlight the innovation, know-how, and passion of cheese-makers on an international level, where awards like Best English Cheese prize, Best Italian Cheese prize, Dairy Farmers of Canada prize, Best New Cheese prize and Grand Champion Cheese were announced. As if the suspense wasn't enough in waiting for the Grand Champion to be crowned, there was a deadlock between two cheeses by the jury on which cheese would be crowned victorious. After a tie-breaking vote, Quebec`s Fromagerie La Station's Alfred le Fermier Grand Crucheese ultimately was selected as the big winner for its leading technical and aesthetic properties.
A personal favourite exhibitor booth I found at this year's SIAL belonged to Davide Bazzali of Cuisine Opera who sang and cooked his heart out on the Italian Pavilion. Italy was in the spotlight at this year's SIAL Canada as the country of honour with the very best of Italian cuisine being showcased along the many aisles of the building. Not only did Davide cook everyone a delectable plate of pasta, he also serenaded the crowd by singing Italian opera transporting everyone there to what felt like an authentic cultural experience in Italy. You just have to watch it to believe it!
Overall SIAL Canada set a record attendance this year in Toronto compared to two years ago with a growth of 10%. Over 25,000 professional visitors from over 60 countries were present over these three days with 1,130 exhibitors and brands on hand.
During my time at this year's SIAL Canada I also had the pleasure of doing a sit down interview with Xavier Poncin, SIAL Canada's Executive Director, as he talked about all the great things SIAL Canada 2019 was able to accomplish in Ontario and the milestone of having all levels of government involved in this year's trade show.
"It's just proof that our show is now anchored within the food industry in Canada. We first launched SIAL Canada in Montreal, so many people have always seen our show as more Quebecois than Ontarian, and even in the different contests we do like SIAL innovation for example, Quebec was number one. But the biggest growth that we have now been seeing with our exhibitors is now coming from Ontario. So having those three levels of government being involved in our show this year shows that SIAL CANADA is the top event for the agri-food sector not only in Ontario, but for all of Canada to be and participate in."
I want to extend my deepest thanks to the entire SIAL Canada team for inviting me to become a media partner at this year's event. If you've missed it this year in Toronto, don't you worry because SIAL Canada will be having its 17th edition in just under a year from now in Montreal at the Palais des Congres from April 15th to 17th, 2020. See you all there!